3 December 2013: Marlin Apartments has joined forces with luxury food emporium The Grocer and beauty specialists In-Room Spa to launch its brand new premium concierge Marlin @ Your Service.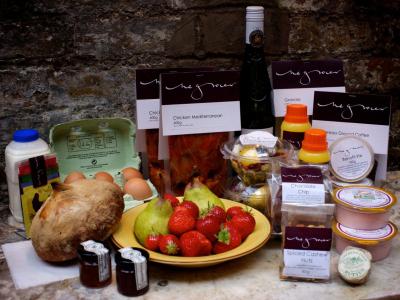 Marlin @ Your Service makes business travel more personal, providing a range of first class bespoke services including gourmet food deliveries, luxury in-room spa treatments, airport transfers and 24 hour childcare. Marlin provides the business traveller with a new level of comfort from start to end by ensuring their stay is fully customised and tailor-made to their unique requirements.
Guests can enjoy the following premium services courtesy of Marlin @ Your Service:
Gourmet welcome packs and ready meals from The Grocer

– Marlin guests can pre-order food and beverage welcome packs that will be ready and waiting on arrival, as well as enjoy an extensive choice of pre-prepared restaurant quality meals delivered direct to their apartment. The Grocer is the pioneer of top quality ready meals, renowned for its delicious products created from locally sourced ingredients – even enjoyed by A-list stars like Meryl Streep when in London.
Luxurious spa and beauty treatments from In-Room Spa

– beauty experts In-Room Spa let Marlin guests enjoy a wide range of beauty treatments including massages and facials, manicures and pedicures from the comfort of your apartment. They also provide hair and make-up services ensuring guests are pampered to perfection for business and social events
Reliable and trustworthy in-house babysitting and child

care from Nanny P

– working parents can now stay with their children whilst on business assignments thanks to experienced childcare agency Nanny P, providing registered and qualified, male and female, multi-lingual carers day or night
In-room chef

– Marlin guests can treat themselves to a personal chef for the evening through the concierge and enjoy an exquisite dinner freshly made in their own apartment, ideal for special occasions or entertaining clients
Lifestyle concierge service offering expert advice and assistance to look after guests' social requirements, including discounts at local gyms, booking concert and theatre tickets, and recommending the perfect restaurant
Convenient, quality same day dry cleaning service, perfect for longer stay guests or those frequently on the move
24 hour taxi service, from short hops to airport and train station pick-ups, guests need not worry about getting from A to B
Corporate assistance

including a full range of business services and support for corporate guests such as photocopying and faxing
"At Marlin, we pride ourselves on our continuing commitment to provide guests with the best home away from home experience possible - and the launch of Marlin @ Your Service takes this commitment to the next level," said Susan Cully, managing director, Marlin Apartments.
"Marlin @ Your Service allows us to offer business and leisure travellers the choice of a wide range of luxury services that ensure they have the most comfortable, relaxed and productive stay with us whether on business or enjoying a break with friends and family."
Marlin Apartments is the leading owner-operator of serviced apartments in central London offering guests spacious, stylish stays in one, two and three bedroom apartments featuring fully fitted kitchens, open plan living and home from home comforts. The company was founded in 2003 and already owns and manages 700 four star-equivalent premium apartments.